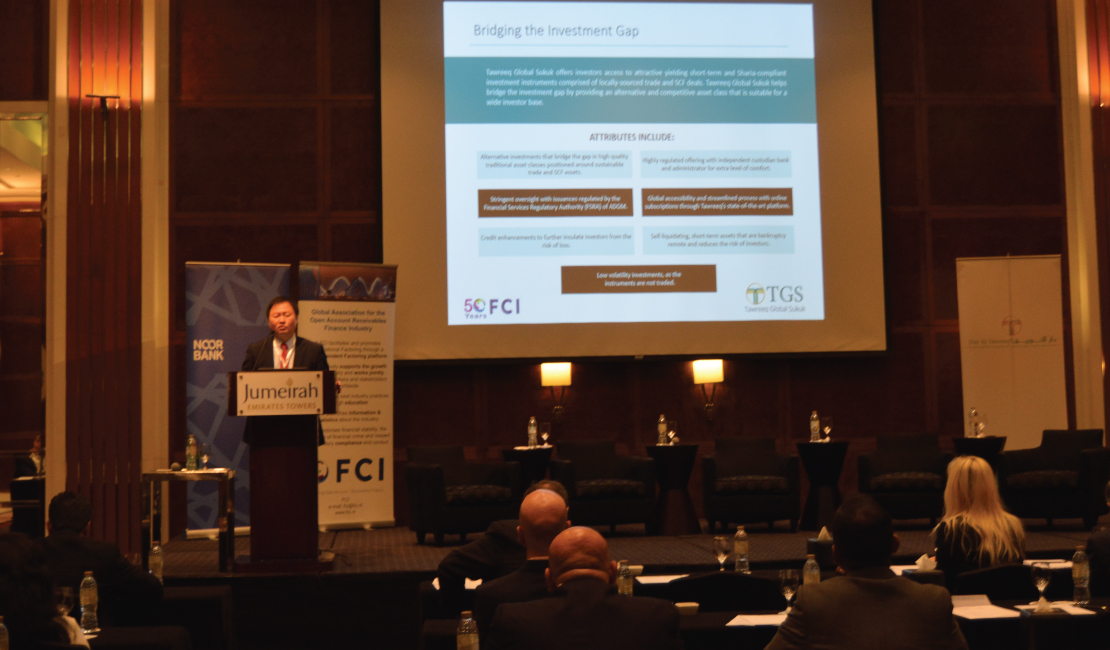 February 22, 2018. Dubai, UAE. - Dar Al Tawreeq, based in Dubai and a subsidiary of the Tawreeq Holdings Group, offering Sharia-compliant Factoring services to SMEs and large corporates in the MENA region, participated as the Gold Sponsor at the FCI Regional Conference and Workshop on Factoring in the Middle East 2018 on February 21, 2018, at the Jumeirah Emirates Towers, Dubai, UAE.
The key focus of the conference was 'Boosting SME Finance through Innovative Factoring Products' and the 'Islamic International Factoring Framework'. The event saw Dar Al Tawreeq's team shed light on these focus areas as panel members in discussion groups, while addressing the challenges and opportunities for Factoring in the Middle East.
Dar Al Tawreeq shared valuable information on how to promote Islamic Factoring as one of the pioneers in developing a Sharia-compliant framework with FCI, alongside the International Islamic Trade Finance Corporation (ITFC) and Noor Bank. Dar Al Tawreeq is pleased to see progress and discussed the status and expected rollout of the Supplemental Agreement for Islamic International Factoring.
The event also saw Tawreeq present its latest Sukuk offering, the Tawreeq Global Sukuk – an investment opportunity in a portfolio of high-quality Supply Chain Finance (SCF) assets that cater to the needs of a global Investor base.
FCI's Secretary General, Peter Mulroy, shared insights into the global Factoring industry and the Islamic International Factoring Framework and informed the audience about FCIreverse, a new platform for FCI members that creates opportunities to diversify traditional factoring activities.
Dar Al Tawreeq, the first Sharia-compliant FCI member in the region was pleased to be a part of the conference and workshop, interacting and sharing knowledge about the industry and witnessing the exponential increase in FCI members and participation this year.